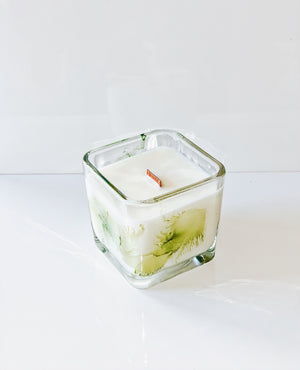 On the Naughty List... Again!
Sale price Price $38.50 Regular price Unit price / per
Christmas in a candle. You won't need mistletoe to sneak your kisses, just show up with this mistletoe and vetiver type candle.
 Size and Average Burn Life:
Each square candle jar is approximately 12 oz with  an average burn life of approximately 70 hrs when burned for 3-4 hours at a time. 
       Jar Customization: 
The jars are handpainted so be sure to let me know what  colors you would like. I have all primary colors, neutrals, metallics, and pastel colors. 
PLEASE NEVER WASH YOUR JAR. THE PAINT REACTS TO DETERGENT. Use the Freezer method to clean out your jar.
Burning Instructions: 
Light your wood wick all the way across.

It is important to allow the melt pool of wax to reach the edges of the container  prior to blowing out. This will prevent candle tunneling.
On the subsequent burns, simply flake off the charred top portion of the wood wick with your finger prior to lighting.